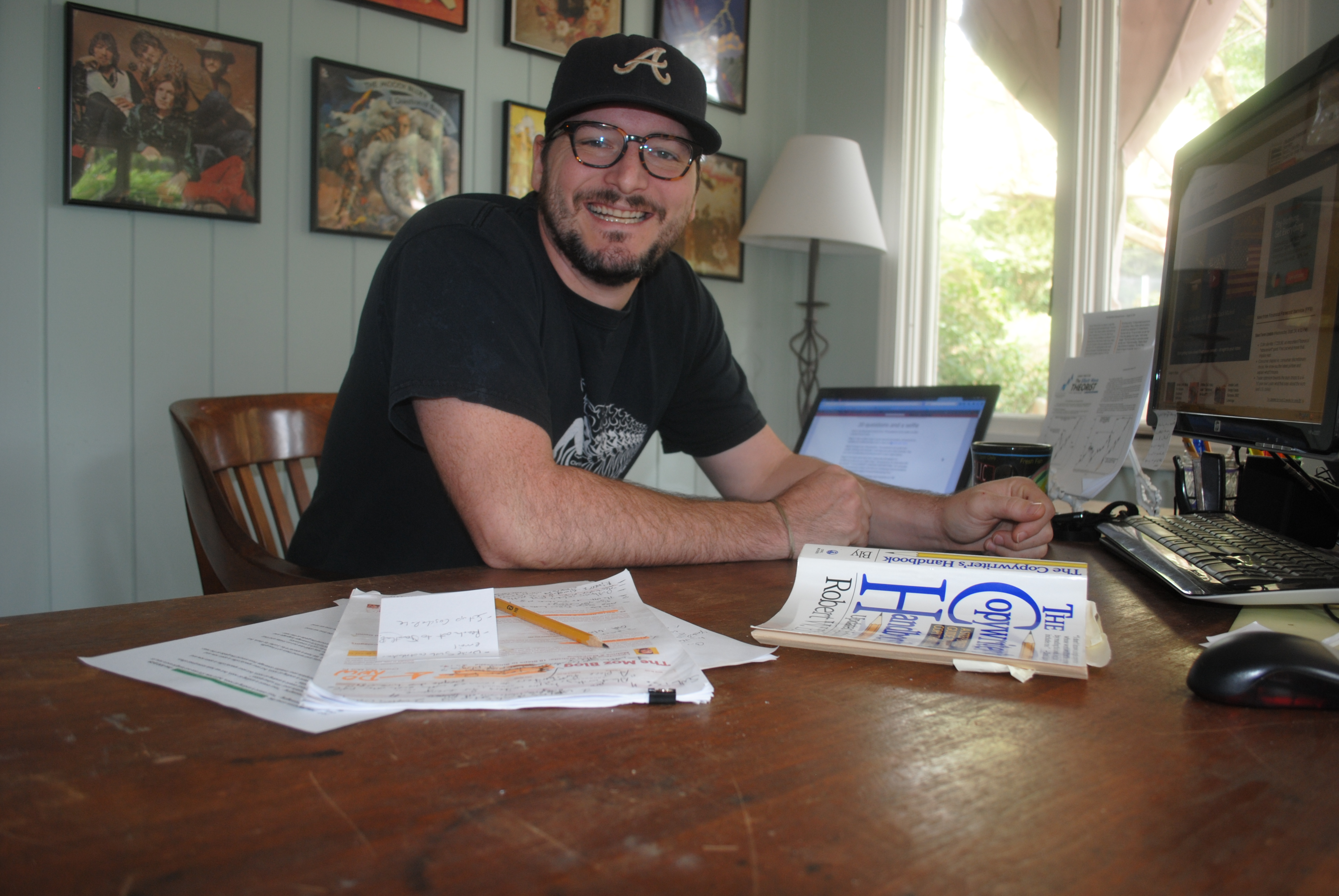 For this installment of "20 Questions and a Selfie," we catch up with digital marketer and copywriter Gary Grimes.
Gary is the marketing communication manager for Elliott Wave International, the world's largest financial forecasting firm. You can read his writing across elliottwave.com (mostly non-byline landing pages) and EWI's email channel (mostly ghost writing for product managers). After working in EWI's Gainesville, GA, headquarters for the better part of 2006-2013, he now enjoys working full time from his home office in Atlanta.
When Gary is not writing, you will likely find him on the ultimate Frisbee pitch at Atlanta's Piedmont Park or tinkering with something in his home woodworking shop.
Gary also publishes content about writing and digital marketing on a growing list of websites, including this one. You can follow Gary on Twitter (and most other social networks) @garywgrimes.
Editor's note: Gary asked us to be sure we mention that his photo is, in fact, technically a selfie, because he used the timer function on his DSLR camera. So there, would-be naysayers!
Our 20 questions with Gary start now:
1) What is your full name, including middle name?

Gary Wayne Grimes
2) What is your professional job title?
marketing communications manager
3) Describe your organization.
Elliott Wave International is the world's largest financial forecasting firm. It serves technical analysts, investors and traders worldwide.
4) Describe your surroundings right now.
I'm sitting in my home office. It's early fall, windows open. I can hear a hawk screeching and the fading whoosh of a jet flying overhead.
5) What was your first paid writing gig?
I believe I was paid about two dozen dollars a week as a sports editor at Auburn University's student newspaper, The Auburn Plainsman.
6) What was the last thing you wrote?
A promotional email for an Investor Open House at elliottwave.com, home of Elliott Wave International. The event showcases EWI's services.
7) What is the next thing you plan to write?
Another promotional email for the EWI Open House. It's a week-long event, so I'm writing mostly about it for the next week or so.
8) Finish this sentence: The ideal way to start my day is …
Getting my son ready for school, dropping him off, grabbing a sausage-egg biscuit from a nearby cafe, then coming home to a pot of coffee.
9) Besides your computer, what is sitting on your desk right now?
Scattered papers topped by a No. 2 pencil; a document easel upholding EWI's latest investment publications; 23 books, mostly about writing.
10) So-called writer's block is no match for you! What is your antidote?
Writer's block is for amateurs. If I'm short on ideas, I write crap until a better angle hits me, then I flesh it out and cut the crap.
11) Finish this sentence: I hate it when I read …
product managers' writing. I find PMs are usually awful at selling their products because they're too close to them to think like customers.
12) What are the most important tools, programs and systems you use for your work?
MS Word for writing; SharePoint for EWI project management; WordPress for personal projects; PhotoShop for graphic design.
13) First book that comes to mind? Go!
The Copywriter's Handbook by Bob Bly, because it's sitting right in front of me.
14) What are your favorite smartphone apps and why?
Not a big apps guy. I use my iPhone's notes for jotting down ideas, Pandora, MapQuest while driving and eBay and Amazon for shopping.
15) What have you always wanted to write?
A book about my and my friends' shenanigans growing up. But I don't know the statute of limitations on some of our antics.
16) What is your advice for aspiring professional writers?
Write daily. Learn the art and science of promoting with prose. Keep your reader foremost in mind. Don't be afraid to promote yourself.
17) First famous writer who comes to mind? Go!
David Ogilvy
18) Finish this sentence: My favorite thing about being a writer is …
helping organizations promote themselves more effectively by transforming their data, ideas and direction into high-performing content.
19) Pencil versus pen—who wins and why?
Pencil, because he also carries the necessary tool to make changes that will improve performance.
20) Finish this sentence: One word or phrase people will never read in my writing is …
very. When someone tells me something's "very" whatever, then I know for certain that it is not.
Would you like to be featured in our "20 Questions and a Selfie" interview? If you're a working, professional writer, you qualify. Click here to do your "20 Questions and a Selfie" now.
I want more stuff like this in my inbox.
An occasional email for writers, by writers, about writing.No Fields Found.

Hi! The staff here at Stuff Writers Like posted this nifty piece of content. We didn't give it a byline, because, well, maybe we didn't write it. But we do like it. Please allow us to take this opportunity to introduce ourselves. Stuff Writers Like is powered by a motley crew of writers, misfits and grammar deviants. They say you have to know the rules before you can break them. Or as Mark Twain said, "Get your facts first then you may distort them as you please." Stop by our About page and consider joining us. We don't bite—unless nibbling counts.

Latest posts by Our Staff (see all)