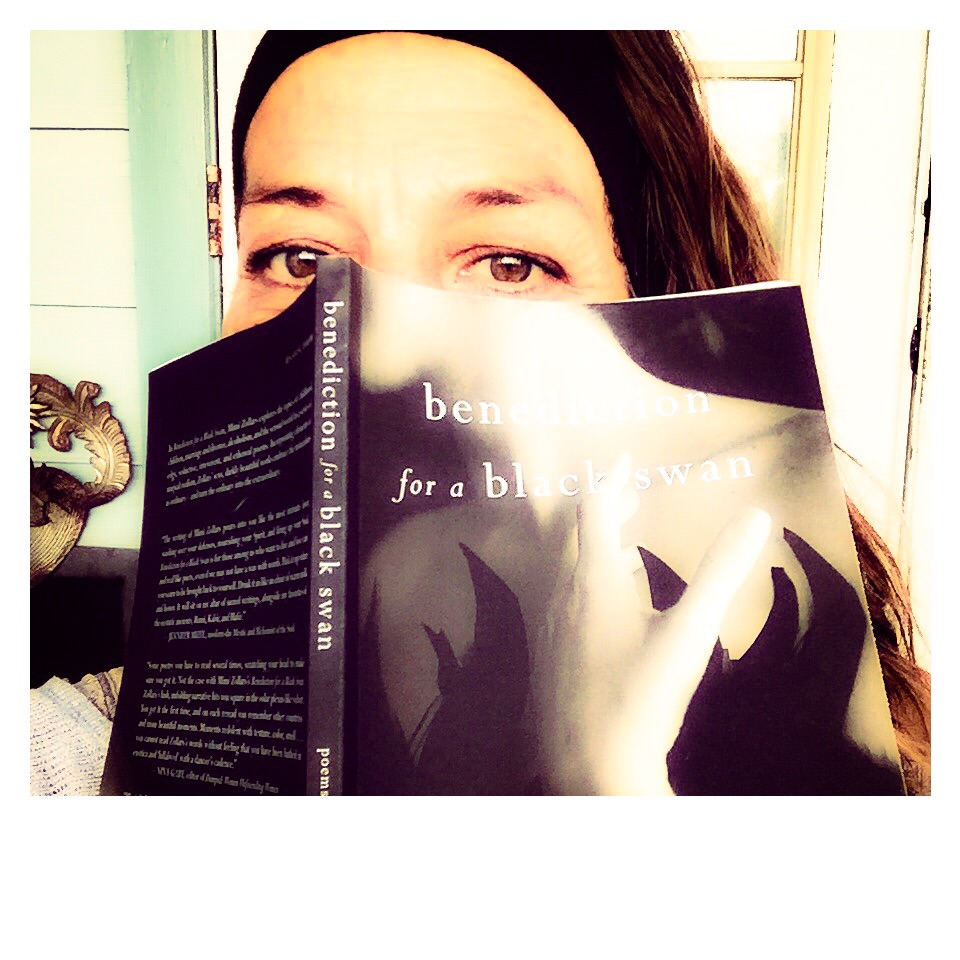 For this installment of "20 Questions and a Selfie," we catch up with Poetess Mimi Zollars.
"Some poets focus on the mechanics of poetry, such as intonation and rhythm, and neglect passion. This isn't the case with Zollars, whose debut collection is a masterful study of how words can be sparingly hewn to create stunning, long-lasting emotional scenes …" says the Kirkus review of Benediction for a Black Swan, "she accomplishes more with a poem of 50 words than some other poets accomplish in 50 pages."
Mimi says her "ruthlessly romantic view of the world is not uninformed." She grew up on both coasts; was raised in the Catholic Church and in the ballet; studied creative writing and dance in college; and currently lives on a small island off the coast of Texas.
You can connect with Mimi on Twitter @MimiZollars and on her website, www.MimiZollars.com.
Our 20 questions with Mimi start now:
1) What is your full name?
Mimi Zollars
2) What is your professional job title?
Poetess, I rather love the association to goddess.
3) Describe your organization.
Uh…
4) Describe your surroundings right now.
Deck near the Gulf of Mexico. Weathered wood, climbing vines, tea lights in milky-blue bottles. A breeze and a fresh drop in temperature.
5) What was your first paid writing gig?
Copy for a little vegan restaurant in Seattle, named Free Mars, 30 years ago. They paid me in espresso and oatmeal raspberry bars.
6) What was the last thing you wrote?
"They say I was Beautiful when I was Young." Poem.
7) What is the next thing you plan to write?
A poem called Cartagraphy and its prologue. Inspired by Neil Gaimna's The Ocean at the End of the Lane. Magical Realism, perhaps.
8) Finish this sentence: The ideal way to start my day is …
Happy. Because I set the intention the night before all delighted and serene. Swathed in white linen and that glorious French man.
9) Besides your computer, what is sitting on your desk right now?
A stack of red rocks from Sedona, black & grey round river rocks from Montana. Black & white photos of my kids, rather distressed. Books.
10) So-called writer's block is no match for you! What is your antidote?
Beautiful haunting music. Delibes, Lakmé always works. Quiet room. Nice light. A blue pen and paper.
11) Finish this sentence: I hate it when I read …
…about hatred. Period.
12) What are the most important tools, programs and systems you use for your work?
Blue pen. Blank white paper. Then my beloved, outlandish Mac.
13) First book that comes to mind? Go!
14) What are your favorite Internet/mobile apps and why?
Oxford English Dictionary. Phew. What a treasure. Don't have to haul around the two volume abridged edition my Uncle John gave me ages ago.
15) What have you always wanted to write?
Am writing just that. Who knew it would arabesques itself into poetry.
16) What is your advice for aspiring professional writers?
Find one or two people who can write, critique, edit. Who love your work and maybe even you. Give back. Be kind. Instincts are everything.
17) First famous writer who comes to mind? Go!
Tess Gallagher. Instructions to the Double. My perfect poem.
18) Finish this sentence: My favorite thing about being a writer is …
You can write ANYwhere. Love the freedom in that. A lot.
19) Pencil versus pen—who wins and why?
Pen. Blue only. Because.
20) Finish this sentence: One word or phrase people will never read in my writing is …
Seagull. I live at the beach. Enough said.
Would you like to be featured in our "20 Questions and a Selfie" interview? If you're a published writer, we'd love to interview you. Click here to do your "20 Questions and a Selfie" now.
I want more stuff like this in my inbox.
An occasional email for writers, by writers, about writing.No Fields Found.

Hi! The staff here at Stuff Writers Like posted this nifty piece of content. We didn't give it a byline, because, well, maybe we didn't write it. But we do like it. Please allow us to take this opportunity to introduce ourselves. Stuff Writers Like is powered by a motley crew of writers, misfits and grammar deviants. They say you have to know the rules before you can break them. Or as Mark Twain said, "Get your facts first then you may distort them as you please." Stop by our About page and consider joining us. We don't bite—unless nibbling counts.

Latest posts by Our Staff (see all)