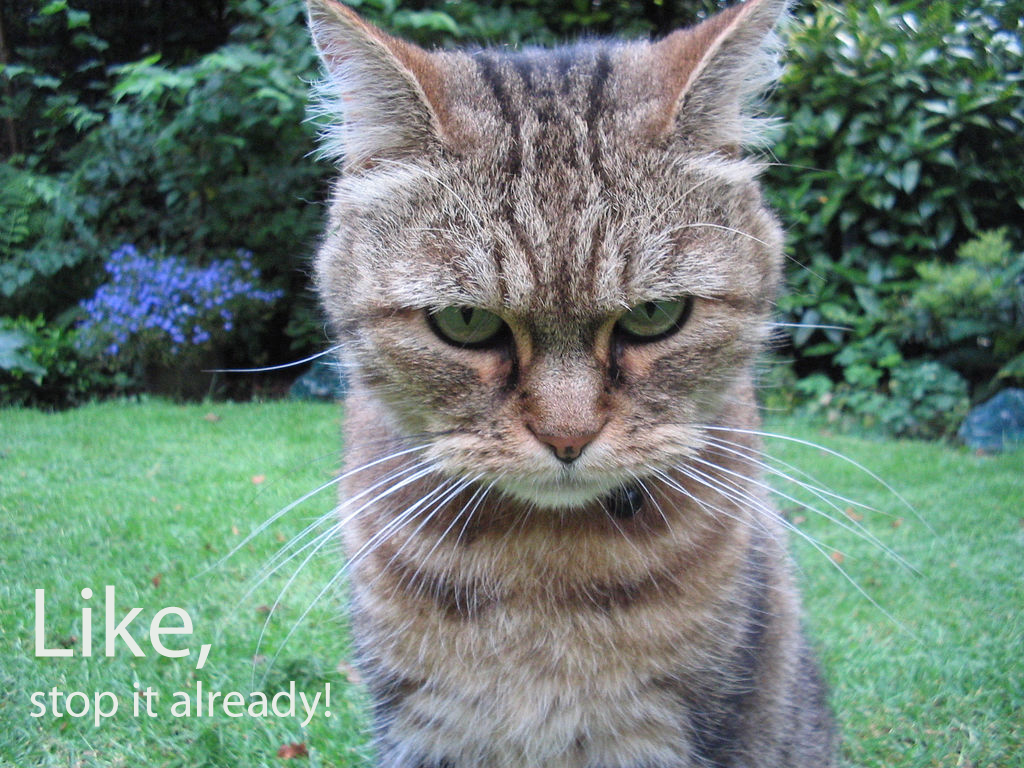 Like, stop it already!
Like is one of the 1,000 most frequently used words (Oxford).
A word that can be used as many different parts of speech (preposition, conjunction, noun, adjective, adverb, and verb)—exemplified as a verb in our site title, Stuff Writers Like.
A word currently overused by American youth at an alarmingly annoying rate. If you have spent more than 10 minutes with a young American in the past 10 years, you know exactly what I am talking about. Kids are using it more commonly than "the." This is because American youth have replaced "uh," "um," "er" and other utterances used for vocalized pauses with a new and exciting, supremely annoying alternative, "like."
If for some reason you have been spared the pleasure of hearing what I am talking about, first, you should get out more often, and second, when you're out next, eavesdrop on a conversation between two American teenagers, and you will soon understand what I am talking about. It's like nails on a chalkboard.
The present, overuse of the word, is symptomatic of an adolescent and immature vocabulary, and could possibly signify a similar mind-set—you don't typically hear well-versed people use the word, regardless of age. My suggestion to kids preparing for life after academia—preferably shortly after high school, and definitely before graduating college—(if you ever hope to land a job somewhere other than Abercrombie & Fitch), is to stop using this word as a vocalized pause. No one will take you seriously until you do.
Parents of teenagers, talk to your teens. You can help them get through this awkward speech phase and prepare them for a life of success off of your couch.
WikiHow's 10-step procedure "How to Stop Saying the Word Like" gives great tips to help your language grow up with you.
 Know how the word "like" is supposed to be used.

 Pause when you would typically insert "like."

 Record yourself to see how often you use the word "like" incorrectly.

 Stop using "like" when quoting someone.

 Don't use "like" to approximate.

 Don't use "like" before adjectives and adverbs.

 Improve your vocabulary.

 Quit using the word "like" altogether.

 Slow down.

 Stick with it.
My favorite is Step #3, "Record yourself to see how often you use the word 'like' incorrectly."
This is powerful. No one likes hearing themself talk to begin with. Can you imagine how embarrassing it would be to hear yourself repeatedly use the same word?
Personally, I would make this the first step. If you use the word like incorrectly as a verbal pause at any point in the recording, I would urge you to follow through with steps 2 through 10. The English language and I, like, thank you.
I want more stuff like this in my inbox.
An occasional email for writers, by writers, about writing.No Fields Found.

Tech writer by trade. Outside of work, I can be found running, hiking, skiing, camping, rafting, seeing live music, catching up on my WIRED and Bon Appétit subscriptions, reading a nonfiction or satire book, watching a crime drama, watching football (War Eagle!) or baseball (Go Braves!), experimenting in the kitchen, or breaking bread with some of my favorite people.

Latest posts by Rachel Marie Kennedy (see all)