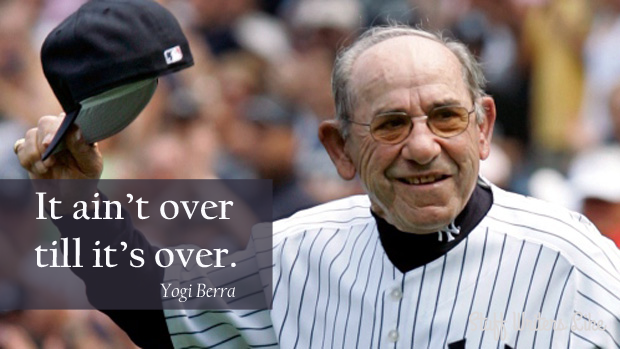 Yogi Berra was a professional baseball player, not a professional writer. He would have told you as much. Yet his wit and wordplay—albeit admittedly unintentional—left an indelible mark on  American language.
In honor of Yogi, who passed at the full age of 90 on Sept. 22, 2015 in Montclair, NJ, here are a few of Yogi's most famous quotations—which you may find surprisingly applicable for writers.
Sure, Yogi might not inspire you to write that novel you're putting off, yet his thoughts on keeping things simple, beginning with the end in mind and following through are indeed sage advice for writers and people in general.
 "If you don't know where you are going, you'll end up someplace else."
(Tweet it!)
 "When you come to a fork in the road, take it"
(Tweet it!)
 "You can observe a lot by just watching."
(Tweet it!)
 "The future ain't what it used to be."
(Tweet it!)
 "It's like deja-vu, all over again."
(Tweet it!)
 "I usually take a two-hour nap from one to four."
(Tweet it!)
 "You don't have to swing hard to hit a home run. If you got the timing, it'll go."
(Tweet it!)
 "I never said most of the things I said."
(Tweet it!)
 "There are some people who, if they don't already know, you can't tell 'em."
(Tweet it!)
 "If I didn't make it in baseball, I won't have made it workin'. I didn't like to work."
(Tweet it!)
 "Half the lies they tell about me aren't true."
(Tweet it!)
 "If the world were perfect, it wouldn't be."
(Tweet it!)
 "We're lost, but we're making good time."
(Tweet it!)
 "You better cut the pizza in four pieces because I'm not hungry enough to eat six."
(Tweet it!)
 "If you can't imitate him, don't copy him."
(Tweet it!)
 "It ain't over till it's over."
(Tweet it!)
With more memorable quotes than any famous writer I can think of, Yogi—like he did with other stereotypes—challenges even what it means to be a writer.
After all, isn't the simplest definition of a writer a person who puts his thoughts into words and shares them with his progeny? By this measure, Yogi stands among the most famous writers of the 20th Century.
Or maybe today's measure is having an Amazon author page—he meets that measure, too.
I want more stuff like this in my inbox.
An occasional email for writers, by writers, about writing.No Fields Found.
Founder and President
at
Copywriter Brands, LLC
A former journalist who sold out for the less romantic but more sustainable world of online marketing, Gary created Copywriter Brands, including StuffWritersLike.com, to help writers connect with each other and the people who hire us—but also to reclaim his love for journalism and storytelling.
Latest posts by Gary Grimes (see all)