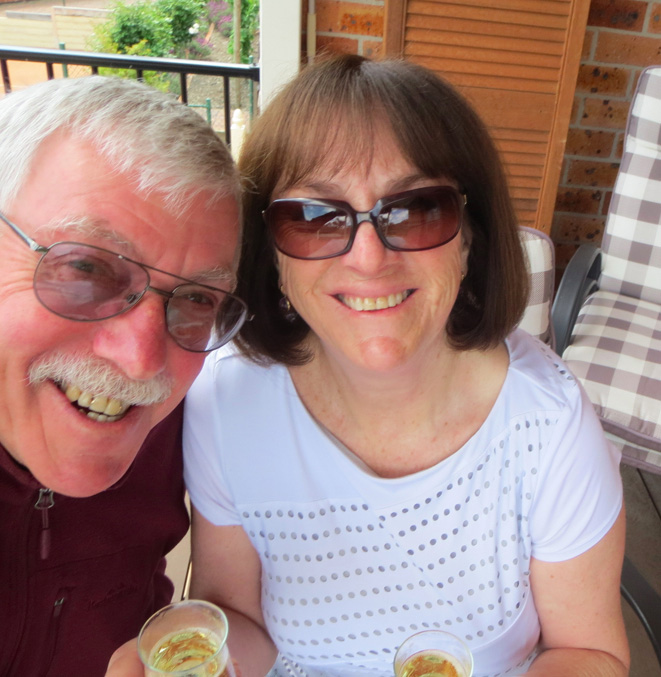 (Above) Alana celebrating a Melbourne Cup win with husband John. "I picked 1st, 2nd and 3rd—a once-only feat! John's taking the selfie but I'm in the shot so I'm claiming it."
For this installment of "20 Questions and a Selfie," we catch up with Alana E. Woods, the intrigue queen of thriller fiction.
An award-winning author and an editor for more than 30 years, Alana wrote three books in the young adult, romance and historical fiction genres before finding her sweet spot in contemporary suspense with her fourth title, Automaton
.
Though Alana has long been a storyteller, she is admittedly not the prolific author among her peers. "It can take me years," she says, "to be satisfied with the quality of a story and my telling of it."
Now regarding her first three books as practice, Alana has published her second contemporary suspense book, Imbroglio
, as well as a book on writing, 25 Essential Writing Tips: Guide to Writing Good Fiction
, and a family medical journal.
You can connect with Alana on Twitter @AlanaEWoods and on her website, www.alanawoods.com.
Our 20 questions with Alana start now:
1) What is your full name?
Alana Eveline Woods
2) What is your professional job title?
Intrigue queen of thriller fiction
3) Describe your organization.
Me
4) Describe your surroundings right now.
Sitting in the bay window of my family room with a view to the bush nature park 50 meters from me and listening to the native birds.
5) What was your first paid writing gig?
ACCC (Australian Competition and Consumer Commission) magazine editor
6) What was the last thing you wrote?
A review for RD Hale's Sky City: The Rise of an Orphan
. A 5 star book if ever there was one.
7) What is the next thing you plan to write?
It's a toss-up between finishing my next thriller or starting a three book mystery series.
8) Finish this sentence: The ideal way to start my day is …
… a pelting hot long shower.
9) Besides your computer, what is sitting on your desk right now?
My Kindle, today's Canberra Times, my diary, a biro and a pack of Christmas cards.
10) So-called writer's block is no match for you! What is your antidote?
If I'm really stumped I re-read a favourite book to relax my mind. Otherwise I just keep typing until inspiration takes over again.
11) Finish this sentence: I hate it when I read …
Full-on violence, full-on sex. Innuendo goes a long way for both.
12) What are the most important tools, programs and systems you use for your work?
Word and Corel Ventura.
13) First book that comes to mind? Go!
Dorothy Dunnett
's King Hereafter
.
14) What are your favorite smartphone apps and why?
Apps? What are they? Sorry! I don't have a mobile phone, my iPad was stolen last year. Only have my laptop now.
15) What have you always wanted to write?
Killer contemporary fiction
16) What is your advice for aspiring professional writers?
Keep at it and get loads of feedback.
17) First famous writer who comes to mind? Go!
It's a photo finish between Dorothy Dunnett
and Dick Francis
. Both dead unfortunately so there won't be anything new coming from either.
18) Finish this sentence: My favorite thing about being a writer is …
… it takes me right out of myself. I'm so absorbed I become my characters.
19) Pencil versus pen—who wins and why?
Neither. I get a cramp after handwriting a couple of lines. I've been typing pretty well all my life.
20) Finish this sentence: One word or phrase people will never read in my writing is …
It was a dark and stormy night.
Would you like to be featured in our "20 Questions and a Selfie" interview? If you're a published writer, we'd love to interview you. Click here to do your "20 Questions and a Selfie" now.
I want more stuff like this in my inbox.
An occasional email for writers, by writers, about writing.No Fields Found.

Hi! The staff here at Stuff Writers Like posted this nifty piece of content. We didn't give it a byline, because, well, maybe we didn't write it. But we do like it. Please allow us to take this opportunity to introduce ourselves. Stuff Writers Like is powered by a motley crew of writers, misfits and grammar deviants. They say you have to know the rules before you can break them. Or as Mark Twain said, "Get your facts first then you may distort them as you please." Stop by our About page and consider joining us. We don't bite—unless nibbling counts.

Latest posts by Our Staff (see all)