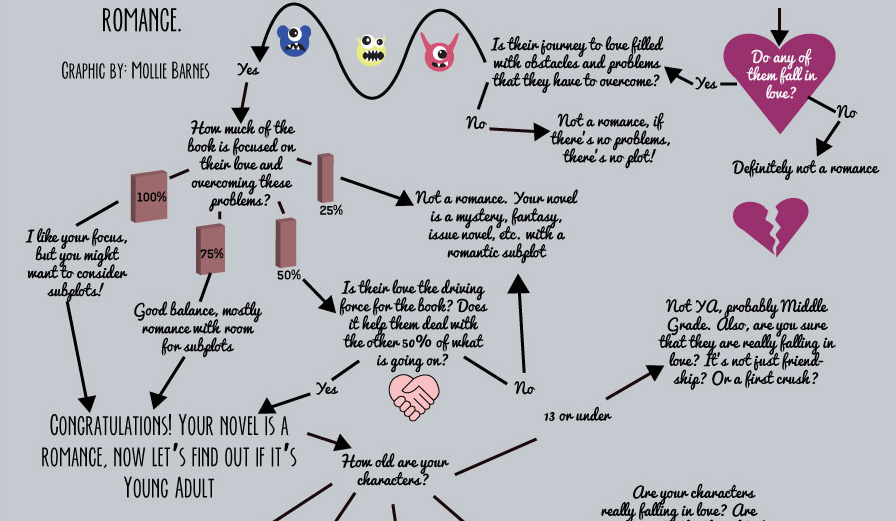 With the success of so many YA or young-adult book, film and television series of late—Hunger Games, Twilight, et al.—the demand for young-adult romance writing is as hot as ever.
But not all young-adult writing is romance, and not all romance is for young adults.
Within the blazing-hot, pimple-faced, fire-in-the-loins niche market that is young-adult romance, there is some debate on what exactly qualifies.
Thanks to Swoon Reads Editor Holly West, we now have a wonderful map and definitive guide for figuring out whether your book is young-adult romance.
I want more stuff like this in my inbox.
An occasional email for writers, by writers, about writing.No Fields Found.

Hi! The staff here at Stuff Writers Like posted this nifty piece of content. We didn't give it a byline, because, well, maybe we didn't write it. But we do like it. Please allow us to take this opportunity to introduce ourselves. Stuff Writers Like is powered by a motley crew of writers, misfits and grammar deviants. They say you have to know the rules before you can break them. Or as Mark Twain said, "Get your facts first then you may distort them as you please." Stop by our About page and consider joining us. We don't bite—unless nibbling counts.

Latest posts by Our Staff (see all)